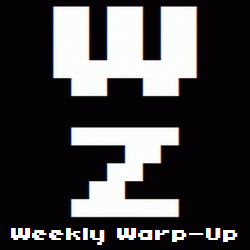 No, that's not a typo. Welcome to the Weekly Warp-Up, your weekly wrap-up of the biggest and the best articles posted at Warp Zoned this week…
On this Mother's Day, let's not forget the woman who put up with all the whining about how you'd just die without the latest video game doodad when you were 12 (having a Game Boy was very important to my existence, seriously). So give your mom a call, I can wait. Oh, and while you're at it, if you're a guy and you've got a girlfriend/wife, even if she's not a mother, be nice to her today. Odds are you've whined about something game-related in the last few weeks that they didn't care about. I know I have.
OK, we good? Great. I'll bet your mom told you to put down those stupid video games and crack a book every once in a while. Thankfully, we can help. This week we studied Scarygirl's Transformation From Graphic Novel to Game and reviewed the anti-mainstream screed Rise of the Videogame Zinesters.
Now you've made mom happy, it's time to spend the rest of your Sunday catching up with our massive Hands-On Preview/Interview with Producer Dan Sochan of Square Enix's Sleeping Dogs. It's out this August and it may just make you say "Grand Theft What?" after you get a chance to try it.
Still need more game news? Check out the rest of the week that was with the Weekly Warp-Up.
The Week in Reviews…
The Week in New Games…
Amazing Paperboy Delivers…
It's A Secret To Everybody…
And Finally…
Somebody put together a complete timeline of the Halo universe. It covers a billion years and six original games, one remade game, six trade comics, nine novels, two short story collections, and an animated film. So if you start now you might be ready for Halo 4 by the time its released this November.