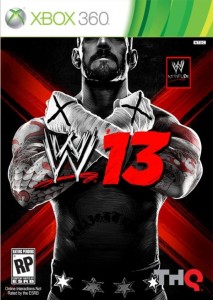 WWE Champion CM Punk officially announced WWE '13 on Monday Night Raw last night and confirmed that he'll be appearing on the cover of the game. The game, which will be available in stores on October 30, will once again be published by THQ for the PS3, Wii, and Xbox 360.
More "official" details will be released later today, but you can check out the game's debut trailer (in "leaked" form) after the break right now.
The trailer features the first gameplay footage of WWE '13 and gives us a rundown of the initial batch of playable wrestlers including CM Punk, Chris Jericho, Big Show, Mark Henry, The Undertaker, and Sheamus. There's also a quick look at a pair of WWE Legends: "Stone Cold" Steve Austin and Mankind.