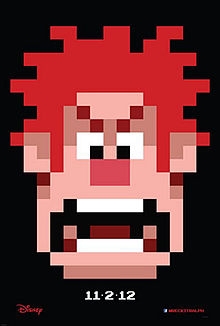 Normally, when Activision announces they're producing a video game tied to a film, I shrug with a certain sadness. It is a shrug that says "Haven't they given up the ghost?"
But Wreck-It Ralph managed to stop me mid-shrug, because the concept of the Disney film may work in the game's favour. In a nutshell, Ralph is an arcade bad-guy, who sets out to prove that he can be a good guy. The game itself will take the form of a 2D side-scrolling beat'em up in a similar fashion to classics like Double Dragon or the recent game based on cult comic film adaptation Scott Pilgrim Vs The World. Activison Publishing Executive VP David Oxford certainly sees it that way:
"Wreck-It Ralph, as a brand entity, is perfectly suited for video game stardom. With the fantastic characters and creative atmosphere envisioned by Walt Disney Animation Studios, we know fans are going to love seeing their newfound favorite characters embark on an all-new side scrolling adventure."
The company is clearly targeting the film's audience, choosing to release Wreck-It Ralph exclusively on Nintendo systems (DS, 3DS, and Wii). The game will take place after the events of the film, with the Wii version offering a classic two-player co-op mode, with Ralph's friend Fix-It Felix as the other character. The game will hit stores around November 2, when the film is rampaging into cinemas.