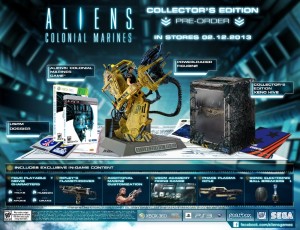 Here's something to take the sting about the most recent delay for Aliens: Colonial Marines. Sega and developer Gearbox Studios have announced a Collector's Edition that will make you want to sing the praises of the Corps… "A day in the Marine Corps is like a day on the farm. Every meal's a banquet! Every paycheck a fortune! Every formation a parade! I love the Corps!"
Retailing for $99.99, the Collector's Edition will be available for the PS3 and Xbox 360 only (sorry PC gamers). The centerpiece of the edition (which is house in a "Xeno Hive" box) is an awesome resin powerloader figurine complete with a snapping Xenomorph. Sega has been shipping a life-size version of this statue to multiple game conventions around the world, so if you're going to be at the E3 Expo next week, be on the lookout for it.
The package also features a USCM Dossier complete with a Mission Briefing, USS Sephora Schematic, Recruitment Card, LV-426 Recon Photo, USCM Iron-on Badges, and a USCM Graduation Certificate.
A host of in-game bonuses rounds out the Collector's Edition including four playable movie characters (Corporal Hicks, Private Hudson, Private Drake, and Sergeant Apone), Additional Marines Character Customization Options, an exclusive multiplayer map (USCM Academy Firing Range) and a trio of weapons (Ripley's Flamethrower, Sonic Electronic Ball Breakers, and Phase Plasma Rifle).
If you just want the in-game stuff (minus the Academy level, the Ball Breakers, and the Plasma Rifle), you can pre-order the game from GameStop to get them.
Aliens: Colonial Marines will be available on February 12, 2013.