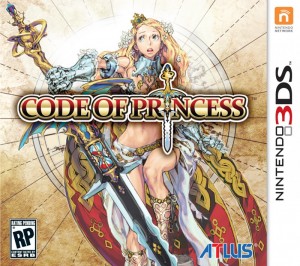 Your 3DS is about to get a little more risque: Atlus announced that they'll be bringing the scantily clad Code of Princess to North America this Fall. Developed by Agashima Entertainment, Code of Princess is an action RPG brawler with both competitive and cooperative multiplayer options.
With both the character development of an in-depth RPG and the fun gameplay of an old-school side-scrolling beat-em-'up, Code of Princess promises to bring a fun new experience to the 3DS.
Tim Pivnicny, Vice President of Sales and Marketing at Atlus, said:
Developed by an all-star team of industry veterans, Code of Princess is unlike anything else available for Nintendo 3DS. Fans of action will savor the game's combat, which is loaded with satisfying chain attacks and plenty of depth-both in terms of attack options and also quite literally in the sense that battlefields employ a three-railed design, letting players move forward and back as tactics dictate. Fans of RPGs will relish the ability to level and improve their characters, converting their gained experience into boosts for the stats that best suit their play style and tactics. This appealing amalgam of game designs is wrapped in a beautiful package, boasting lovingly rendered and animated characters and eye-catching flurries of punches and kicks. With something for virtually every kind of old-school gamer and with an esteemed pedigree to draw upon, Code of Princess is certain to be one of the most anticipated Nintendo 3DS games of the year.
That's quite an ambitious claim. In true Atlus fashion, those who pre-order the game will receive the Sound & Visual Book, with artwork from designer Kinu Nishimura, as well as music from ACE's soundtrack. Start clicking that pre-order button, collectors.