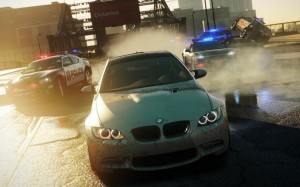 EA has been teasing the next Need For Speed game over the last few weeks, and today they've confirmed that it'll be titled Need For Speed: Most Wanted. This won't be the first Need For Speed game to carry that title. Another "Most Wanted" game was released in 2005 for the GameCube, PC, PS2, Xbox, and Xbox 360.
This new version will be developed by Criterion (makers of the Burnout series and Need For Speed: Hot Pursuit) and will make its public debut at next week's E3 Expo. To get you geared up for that reveal, EA has released a single screenshot of the game, which you can see on the right.
We'll have more on Need For Speed: Most Wanted next week.