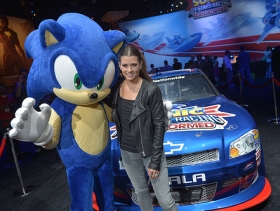 Horny teens and auto nuts everywhere can now celebrate the announcement that NASCAR racing hottie Danica Patrick will be a playable character in Sega's Sonic & All Stars Racing Transformed. To promote the game, the driver and model will be racing a "No. 7 Sonic the Hedgehog Chevrolet" in the O'Reilly Auto Parts Challenge on November 3 at the Texas Motor Speedway. Danica herself was bursting with enthusiasm when asked about her being turned into a video game character:
"It's a very exciting experience since I'll be sharing the screen with such an iconic character. I cannot wait for gamers to jump into my customized, transformable vehicles and give Sonic a run for his rings this holiday season!"
The sequel to Sonic & Sega All-Stars Racing will see the players take to the land, sea and air, similar to the N64's underappreciated Diddy Kong Racing. Here, however, the vehicles will transform during the race in a triathlon fashion.
Sonic, Danica and the other All Stars will be appearing on the Xbox 360, PS3, 3DS, PS Vita, and PC this winter. The sequel will also race onto the Wii U this winter as well.