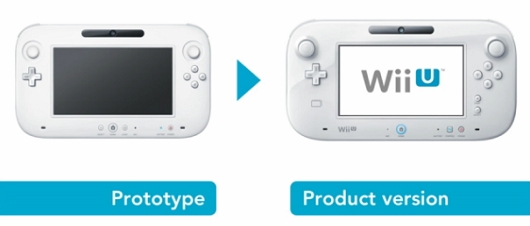 Only, it's not called the Wii U tablet anymore.
A few hours ago, Nintendo put out their latest Nintendo Direct broadcast. On the 30-minute program, company President Satoru Iwata revealed the Wii U GamePad to the world. While the two GamePads look similar (and the touchscreen in the center is the same), the outer edge of the controller is brand new.
The analog nubs have been replaced by full-size analog sticks that are clickable (just like the PS3 and Xbox 360). The sticks themselves have been pulled further away from the screen while the d-pad and face buttons have been slid closer for a more comfortable feel. The GamePad also has a small sensor below the d-pad for scanning objects such as "action figures."
But the coolest feature may just be the "TV Button" along the bottom row. Pressing it turns the Wii U GamePad into a full-fledged, infrared television remote. Maybe it's the head cold I current have talking, but I think Nintendo just won the living room war with that little innovation.
Hit the jump to view the full Nintendo Direct Pre-E3 2012 presentation.