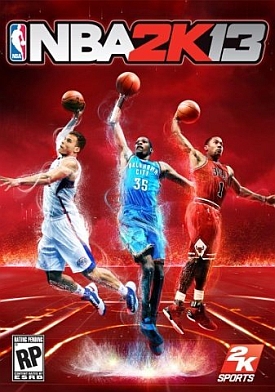 With the lockout a thing of the past, 2K Sports has decided to not go with a retired legend for the cover of NBA 2K13.
Instead, the publisher has tapped three of the best players currently playing the game: Blake Griffin of the Los Angeles Clippers, Kevin Durant of the Oklahoma City Thunder, and Derrick Rose of the Chicago Bulls. All three were suitably humbled to be selected for the cover. And why not, they were preteens when NBA 2K was released!
"Being crowned as one of the NBA 2K13 cover athletes is a huge honor and something I always dreamt about," said Durant. "It's definitely humbling to grace the cover after the likes of Michael Jordan, Magic Johnson and Larry Bird."
"There's so much young talent around the NBA, so it's very exciting to be chosen for NBA 2K's 'New Dynasty' alongside Kevin and Derrick," added Griffin. "The NBA 2K series has always been my first choice when I want to get a game in."
"It's a dream come true to be one of the cover athletes for NBA 2K13," commented Rose. "I've worked closely with 2K Sports since NBA 2K10, and I'm honored to follow in the footsteps of Michael Jordan as the latest Chicago Bull to be featured on the cover."
NBA 2K13 will be released for the PC, PS3, PSP, Wii, and Xbox 360 on October 2. A Wii U version will also be available before the end of the year.