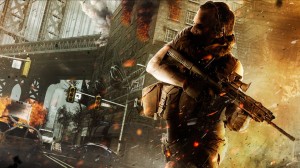 It's that time again… this month's batch of Call of Duty Elite content for Call of Duty: Modern Warfare 3 has been added to the Xbox Live Marketplace by Activision. As always, this content will make it's way to the PC and PS3 "soon."
This month, Modern Warfare 3 players will be treated to a new Spec Ops Mission and three new 1v1 or 2v2 "Face Off" maps. Want the details on all four maps? Hit the jump to read all about them.
Arctic Recon (Spec Ops Mission): Requiring surgical precision by air, land, and sea, this new Special Ops mission tasks you with destroying a Russian battleship by planting beacons for an air strike. Take control of a recon helicopter to reveal the beacon locations before fighting off forces on the ground to ensure the ship never leaves port.
Vortex (Face Off): No storm shelter can keep you safe in "Vortex," the all-new "Face Off" map that places you just outside the danger zone of a devastating tornado.
U-Turn (Face Off): A bombed-out, gridlocked highway provides a perfect backdrop for combatants on this all-new "Face Off" map, where oil fields burn black high above six-lanes' worth of abandoned cars, buses and paths for attack.
Intersection (Face Off): A New York bridge overpass provides the backdrop for this all-new "Face Off" map in which an ultra-condensed 2-block battle zone allows players to fight on the first and second floors of surrounding apartments and bombed-out bodegas.