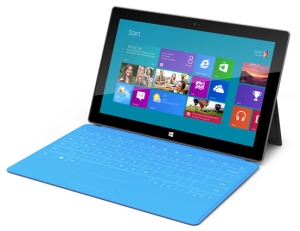 Microsoft's big announcement yesterday was the unveiling of Surface, a new line of tablets that will be powered by Windows 8 (and its mobile variant, Windows RT).
Currently, two models have been announced: Surface for Windows RT will feature an ARM processor designed with Microsoft's new "Metro" interface in mind while Surface for Windows 8 Pro will ship with a full version of Windows 8. Each Surface tablet includes a 10.6″ screen and a 3mm magnetic touch cover that doubles as a keyboard.
The Surface for Windows RT tablet will be available this Fall, alongside the release of the Windows 8 operating system. The Surface for Windows 8 Pro tablet release will follow about 90 days later. Pricing wasn't announced, however Microsoft did say the Surface tablets would be comparable in price to an Intel Ultrabook ($800-$1,500).
A complete list of Surface specs can be found after the break.
Surface for Windows RT
OS: Windows RT
Light: 676 g
Thin: 9.3 mm
Clear: 10.6" ClearType HD Display
Energized: 31.5 W-h
Connected: microSD, USB 2.0, Micro HD Video, 2×2 MIMO antennae
Productive: Office '15' Apps, Touch Cover, Type Cover
Practical: VaporMg Case & Stand
Configurable: 32 GB, 64 GB
urface for Windows 8 Pro
OS: Windows 8 Pro
Light: 903 g
Thin: 13.5 mm
Clear: 10.6" ClearType Full HD Display
Energized: 42 W-h
Connected: microSDXC, USB 3.0, Mini DisplayPort Video, 2×2 MIMO antennae
Productive: Touch Cover, Type Cover, Pen with Palm Block
Practical: VaporMg Case & Stand
Configurable: 64 GB, 128 GB