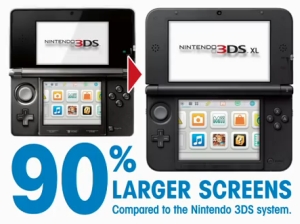 Nintendo's latest Nintendo Direct presentation has just ended and Nintendo of America President Reggie Fils-Aime has just given us our first look at the 3DS' first hardware revision. In an absolutely shocking twist, the handheld's new form still only has one analog stick!
But enough of what it doesn't have, what is does have is actually kind of impressive. The screens are 90% larger than the ones on the original 3DS and the handheld will be bundled with a 4GB SD card. It'll also feature increased battery life (6-10 hours) and a choice of two colors: red or blue. The 3DS XL will be released on August 19 and will retail for $199.99. Yup, definitely impressive…
But the lack of a second analog stick still just baffles me. And can you imagine this beast with it's own Circle Pad Pro attachment? Something tells me Nintendo has given up on the idea of a twin-stick handheld.