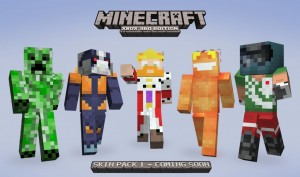 Microsoft and developer 4J Studios are moving forward with the next major Minecraft: Xbox 360 Edition update. There's still word on when the 1.7.3 update will be released, but the company's PlayXBLA blog has promised it'll contain some "amazing new features." The PC version's 1.7.3 update included more clay, shears for shearing sheep, and pistons. Who knows what XBLA-specific surprises Microsoft might have up their sleeves?
Speaking of surprises, Microsoft also announced that Skin Pack 1 (yes, they're already planning multiple Skin Packs) will be released alongside the 1.7.3 update. Players who purchase Skin Pack 1 will gain access to 40 fancy new skins and none of them will be variations of "Steve!" Instead, Skin Pack 1 will include original skins such as a Creeper Man, 'Splosion Man, Trials Man, Covenant Grunt, and the King.
The 1.7.3 update will be free to download, but the price of Skin Pack 1 has yet to be determined.