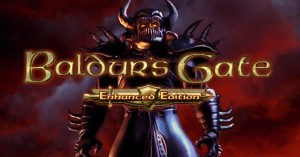 Baldur's Gate: Enhanced Edition is coming to PCs next month, just 14 years after the initial release of the original Baldur's Gate. The enhanced edition will be running on a version of the Infinity Engine that has been upgraded and improved. There's a lot of new stuff here, including a new adventure called "The Black Pits," three new characters: Dorn Il-Khan, Neera the Wild Mage, and Rasaad yn Bashir, and lots more:
A new collection of player character voice sets
Native support for high resolution widescreen displays
Over 400 improvements to the original game
Improved multiplayer support, with connectivity between all platforms
The Enhanced Edition will be available for PC download on September 18 for $19.99 and is available for pre-order now. It is also scheduled to be released sometime in September for the iPad and Mac, with an Android release to be announced.