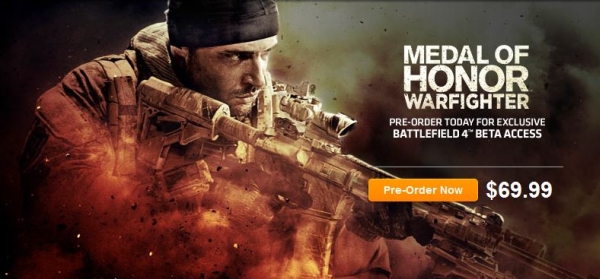 The Battlefield 4 beta is real. After last week's Origin leak, EA has confirmed that beta access to Battlefield 4 will be included with every PC, PS3, and Xbox 360 copy of the Medal of Honor: Warfighter Limited Edition.
The Battlefield 4 beta will be available in Fall 2013. A release date for the full game wasn't announced, but Battlefield 3 launched a month after its beta. So expect a similar schedule for Battlefield 4.
"Though Battlefield and Medal of Honor Warfighter each offer players a completely unique experience, they are united by their underlying technology base – Frostbite. These are two of the hottest shooters, coming together to deliver a one-two punch of action, intensity and shooter entertainment," said Frank Gibeau, President of EA Labels.
Medal of Honor: Warfighter will be available in stores on October 23.