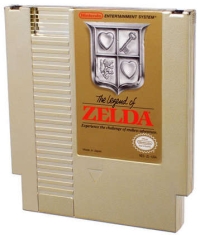 Nintendo's "8-Bit Summer" promotion on the 3DS eShop begins today with the release of The Legend of Zelda and NES Open Tournament Golf.
3DS gamers will also have a chance to download Family Tennis 3D from Arc System Works, puzzle game Akari by Nikoli, and a Heroes of Ruin demo this week. Nintendo has also selected the second Game of the Weekend, Sakura Samurai: Art of the Sword, which will be available at a discounted price ($4.99) all this weekend.
If you're looking for more games from a bygone era, Nintendo has also added the NeoGeo game 2020 Super Baseball to the Wii's Virtual Console.
The DSiWare and WiiWare Shops also received a ton of new titles this week, you can check them out after the break.
Topoloco (DSiWare) – Meet professor Topoloco. He's absolutely crazy about topography and he is glad to have you in his world topography class!
3, 2, 1… Words Up! (DSiWare) – Build the maximum number of words with the same combination of letters. Do it before time runs out or you will lose!
Let's Create! Pottery (WiiWare) – Throw the clay on the wheel, release all your artistic talents and take benefit of dozens of materials available in order to create your own design!
2020 Super Baseball (Wii Virtual Console) – Originally released in 1991, this is not your typical baseball game. The games are held at the exclusive Cyber Egg Stadium, where the home run zone is alarmingly small and the fair zone is unusually wide.
Akari by Nikoli (3DS eShop) – "Akari" is a puzzle in which you set lights based on the hint numbers in order to light up the entirety of the white space.
Family Tennis 3D (3DS eShop) – This casual tennis game features eight playable characters and six different courts, all packed with variety. Start with the Tournament mode to unlock everything in the gallery, then try the minigames.
The Legend of Zelda (3DS eShop) – Celebrate the Nintendo eShop "8-bit Summer" series with this smash-hit adventure, originally released on the NES console in 1987. Help Link restore the Triforce, rescue the princess and thwart Ganon's evil plans.
NES Open Tournament Golf (3DS eShop) – This classic NES game from 1991 – now available for Nintendo 3DS as part of the Nintendo eShop's "8-bit Summer" series – lets you challenge another player in Stroke, Match and Tournament modes.