Pre-order CoD Black Ops II, get reimagined "Nuketown" multiplayer map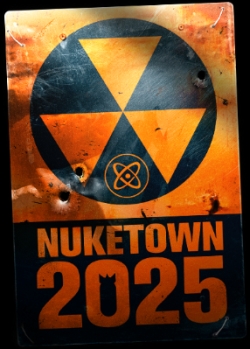 Have you pre-ordered this November's Call of Duty: Black Ops II yet? Why not? Perhaps Activision needs to sweeten the deal…
The publisher announced today that gamers who pre-order Call of Duty: Black Ops II for any platform from "participating retailers" will receive a code to download a remiagined version of "Nuketown," a popular multiplayer map from the first Black Ops.
Now known as "Nuketown 2025," Treyarch's Studio Head, Mark Lamia, is thrilled about the map's inclusion in Black Ops II: "Multiplayer fans of Call of Duty: Black Ops LOVE Nuketown. Flat out, Nuketown was a blast to play before, and we're excited about the reimagined Nuketown 2025 in Call of Duty: Black Ops II. We can't wait to play with everyone come this November."
Call of Duty: Black Ops II will be available for the PC, PS3, and Xbox 360 on November 13.
It's Dangerous To Go Alone! Read This.
A Commenter Is You!