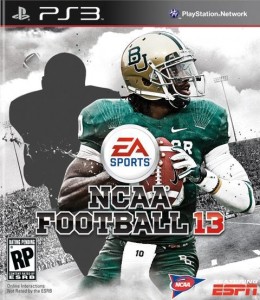 This week's PlayStation Store update is the perfect example of "something for everyone." At least one of the eight games added to the store this week should make you giddy with excitement. And if not, I think your giddy bone may be broken. Best get that looked at.
There's digital download versions of NCAA Football 13, Game of Thrones, and Get Up And Dance. There's Kim Swift's latest puzzle platformer, Quantum Conundrum. There's the colorful RPG, Rainbow Moon, and the colorful arcade reboot, Frogger: Hyper Arcade Edition.
Finally, there's the PS2 Classic Hannspree Ten Kate Honda: SBK Superbike World and the PSP Mini Arcade Pool.
Hit the jump for more on everything you'll find in this week's PlayStation Store update.
PS3 Full Games
NCAA Football 13 ($59.99)
Take your team to victory with a former Heisman Trophy winner on your team with NCAA Football 13. With one of 10 former Heisman winners on your roster, see if you have the confidence and poise to utilize his legendary skill set to once again capture the Heisman Trophy—this time for your school.
Game of Thrones ($49.99)
Written in conjunction with author George R. R. Martin, the famed A Song of Ice and Fire universe opens further to reveal a new chapter of the story! Play as two former soldiers of Robert's Rebellion who, despite divergent paths, must reunite to face a new and deadly threat to the Seven Kingdoms. Travel a parallel course with the original series, interacting with familiar faces, including Cersei Lannister, Lord Commander Mormont, and Varys.
Get Up And Dance ($19.99)
Get Up And Dance is the ultimate dancing game! Whether you are the star performer or prefer to stay out of the limelight as a backing dancer, Get Up And Dance offers a variety of options to bring out the dancer in everyone.
PSN Games
Frogger: Hyper Arcade Edition ($9.99)
Frogger's coin-op thrills are back and better than ever! Jump into the action with classic and brand-new game modes that expand on Frogger's classic run-and-dodge gameplay. Customize your game board with different skins, from the modern neon style of HYPER ARCADE to the 8-bit sprites from Castlevania and even CONTRA! Throw down against friends or the CPU in up to 4 player matches to find out who's really the top frog.
Rainbow Moon ($14.99)
Rainbow Moon is a beautiful role-playing game filled with exploration, turn-based battles, and character development. Six playable main characters with upgradeable weapons and armor, and more than 20 challenging dungeons await you in a fascinating story that lasts over 40 hours.
Quantum Conundrum ($14.99)
When you're dropped off to visit your uncle, you notice something's wrong. He's not there to greet you and there was an explosion just as you arrived. It's now up to you to rescue your uncle using his newest invention, the Interdimensional Shift Device. Shift between five different dimensions in real time and work your way through his crazy complex mansion!
PS2 Classics
Hannspree Ten Kate Honda: SBK Superbike World ($9.99)
Hop onto your favorite superbike and challenge the 2007 SBK World Championship Riders on 11 official tracks.
PSP Minis
Arcade Pool ($2.99)
Challenge your friends and family to this authentic Pool experience, with intuitive controls and a huge range of features, rewards & secrets!