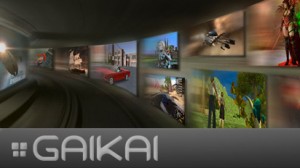 On Monday, Sony made the surprise announcement that they had bought Gaikai, the cloud gaming platform, for the small sum of $380 million. But what does it all mean? The truth is, nobody knows, yet that didn't stop the wet, wild, and wacky speculation that we saw over the past few days.
Forbes Magazine ran a story entitled "Is Gaikai Acquisition Proof that Sony is Dumping PlayStation?" However, if you read the article, it spends a full page discussing the underselling PS Vita, leaving only a paragraph to discuss the acquisition of Gaikai, essentially suggesting the end of consoles. Given the fragile state of our global Internet structure, I would disagree with this view. Nor do I see Sony dumping the very successful PlayStation brand.
Richard Leadbetter at Digital Foundry had a much more realistic take, suggesting it would be a better service to use for things like demos, but then analysed the numbers and the latancy frame rate, specifically the lag rate. While the performance of cloud gaming is improving, their tests show that it still doesn't even come close to local play.
However, despite Shiny Entertainment and Gaikai founder Dave Perry claiming that the future of gaming is free-to-play, the simple truth is this; the PlayStation 4 has been in development since at least 2010, if other rumours are to be believed.
Now if Sony were planning to make cloud gaming the central piece of the next PlayStation, surely they would have acquired Gaikai or similar early in development? So for now, while the Gaikai announcement is interesting, expect it to supplement whatever Sony has in store for the PS4 rather than be the main feature.