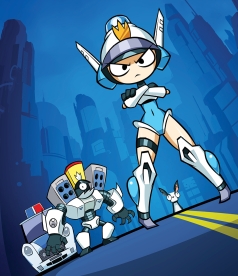 The July 2012 issue of Nintendo Power has revealed that WayForward is hard at work on a high definition remake of 3DS platformer Mighty Switch Force! for the Wii U.
The unimaginatively titled Mighty Switch Force! HD will include all of the additional features WayForward created for the "Bonus Incidents" update as well as completely redrawn character art. And according to Creative Director Matt Bozon, the developer may throw a few more extras into the Wii U version, which will be available to download from the Wii U eShop shortly after the system's launch.
And if you're a WayForward fan, you'll be happy to know they've got more downloadable games in production for both the 3DS and Wii U.