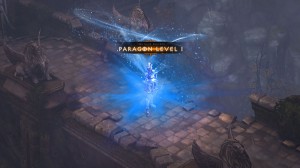 For people who are still playing Diablo III – not just playing it, but grinding themselves into dust by leveling up half a dozen characters to level 60 – is there any hope for you once you hit that ceiling? Do you find yourselves kicking the dust around, wishing you could increase your Magic Find to 300% without swapping gear mid-fight?
First of all, I didn't even know people did that until I read about the new Paragon system. But how does the new Paragon system – which goes 100 levels past level 60 – work, exactly?
Well, first of all, any experience gained past level 60 counts towards Paragon levels, each of which will reward you with "Core stats such as Strength, Dexterity, Intelligence, and Vitality in amounts similar to what you'd gain from a normal level" as well as "3% Magic Find and 3% Gold Find." In case you didn't feel like doing the math, that caps you off at 300% Magic Find and Gold Find.
For all the gruesome details, check this blog post at Battle.net. If you're not a hardcore Diablo III player, most of it will seem like jargon. But if you are, and 60 levels wasn't enough for you, you just hit the jackpot.
Blizzard plans to reveal more about the Paragon system, including a launch date, soon.