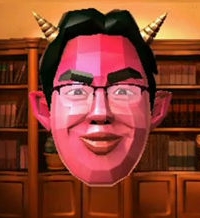 Dr. Kawashima returned to the Brain Age series in Japan last month with Brain Age: Devil Training, a 3DS game that casts the good doctor as a demonic taskmaster… for your brain!
For all us Americans who want to train our brains, we're in luck. Nintendo has announced that the game will make its way across the Pacific, albeit with a new title, this December. The game will be released in America as Brain Age: Concentration Training and it'll be available in stores on December 3.
So sayeth the Nintendo of America Twitter feed:
Dr. Kawashima is back to train your brain! Brain Age: Concentration Training launches for Nintendo #3DS on 12/3.

— Nintendo of America (@NintendoAmerica) August 29, 2012
I really hope Devil Dr. Kawashima makes it to America. Look at him, he's evil and adorable at the same time!