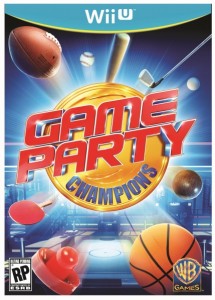 Warner Bros. Interactive Entertainment has announced a new addition to the Game Party franchise, Game Party Champions. The minigame collection, which is set to be a Wii U launch title, will include hoop shoot, ping pong, skill ball, and table hockey. Are we having fun yet, people???
The game, which is being developed by Phosphor games, will have HD graphics, as well as three game modes – Quick Play, Story Mode, and Party Mode. The last mode has one player using the Wii U GamePad while the other players "grief" that player using WiiMotes. The press release actually says "grief (wreak havoc)," in case you were wondering.
Senior Vice President of Production and Development at Warner Bros., Samantha Ryan, had this to say: "Developed specifically for Wii U, Game Party Champions has a fun, pick up-and-play style that experienced and novice gamers will equally enjoy. Players can tilt, turn and swipe the Wii U's revolutionary touch screen controller to play in entirely new ways."
Perhaps all this innovation will help make Game Party Champions be more successful than the last three poorly-reviewed games in this series.