Once again we join the crusading developers striving to seek funds for their gaming projects, vying for donations on the battlefield that is Kickstarter. In this edition, we have action adventure game Rack n Ruin, PvP RPG Eternal Fate, fantasy shooter Forge, energy platformer Wisp, and digital trading card game SolForge. That's not to mention the KickStarter Indie Bundle, which features not one, but nine games! Get your money at the ready…
Rack n Ruin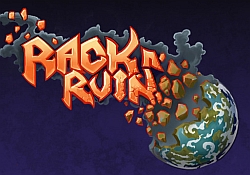 Described as a 2D top down action-adventure exploration game, Rack n Ruin follows the titular protagonist, Rack, a little devil with a big appetite for destruction. The game is being developed by Tyler Hunter, who was an artist with Blizzard Entertainment before leaving to craft this pet project. Through his industry connections, he has managed to gather a number of colleagues and friends to help out, including composer Ben Briggs and fellow artist Peter Sakievich. The art is what immediately captures the imagination, managing to be both cute and sinister at the same time.
So with all this industry experience at hand, why does Tyler and his crew deserve your donations? Well, they already have a working prototype, so you can judge for yourself, but they need the funds to help finish up the game, employing a sound designer as well as some extra artists to polish and smooth the edges. For the small donation of $10, you will receive a copy of the game for either PC or Mac, as well as a digital ebook containing the stunning artwork produced during the game's development. Those generous souls among you who have $10,000 lying around will not only be invited to the game's launch in California (travel not included), but Ben Briggs will compose a custom song of your creation to be included in the game, as well as a custom NPC. To sweeten the deal, Tyler himself will paint you an 18" x 24" oil painting on canvas, of anything your heart desires.
Eternal Fate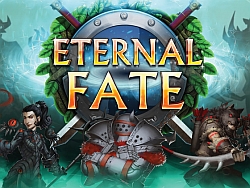 Texas outfit Escalation Studios has been working on PvP-focused action RPG Eternal Fate for over a year now, and its effort is plain to see in the pre-alpha trailer. The beautiful 3D-rendered visuals and landscapes have a hint of Nintendo in them, while retaining its own sense of character. The veteran development team has worked on the likes of World of Warcraft and Borderlands, the latter's influence evident in the near-endless gear and weapon combinations on offer. Escalation is pushing the PvP angle, hoping players are tired of action RPGs filled with lacklustre AI.
The studio is also keen to point out that it is not "Mega Game Corp," and that this game is designed by serious gamers for serious gamers. The team has invested their own money into the game, but now need additional funding to reach their goal of releasing by the end of 2012. All donors will be invited to the closed beta testing, and those who give the minimum $15 will receive a digital download of the full game for PC or Mac, as well as exclusive weapons only available to Kickstarter backers. The maximum donation of $10,000 or more is limited to only three people, and grants you the title of Game Designer; you will essentially have input into level layout, as well as armor and weapon design. On top of this you will receive a pair of limited edition Eternal Fate sneakers, and the Haste Edition of the game. So make haste, and donate!
Forge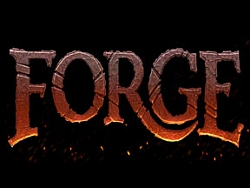 Dark Vale Games' Forge blends third-person shooter controls with MMO abilities in an epic fantasy game. Like Escalation Games with Eternal Fate, they feel that current PvP games leave a lot to be desired, and also understand that some gamers have a limited time to play these days, and so wish to construct something with ease of access.
Already well into production using Unreal Engine 3, the pre-alpha artwork is nothing short of breathtaking, be it the ferocious Fire Elemental or the armoured Pyromancer. The game will have six class types – Assassin, Pathfinder, Pyromancer, Shaman, Warden, and soon Ravager – and will initially launch with four unique maps. While Dark Vale has sought help from other developers such as SuperGenius and New Zealand's Digital Confectioners, they have resisted the urge to bring in outside investors for fear it would impact their freedom in producing a quality title.
And so, with a high target of $300,000, they have turned to Kickstarter in the hope that they can finish on time and on budget, while their next milestone of $500,000 will allow them to add additional features, such as automated tournaments and guild systems. For the basic donation of $15 you will receive a copy of the game for PC ahead of the public release, as well as an in-game founder's title. The top tier donation of $10,000 or more, limited to fifty people, will see you gifted with a high-end Forge Origin X custom designed PC (laptop or desktop). The developers will also take your likeness and make it into an in-game statue, and create a lore surrounding your Forge alter-ego.
Wisp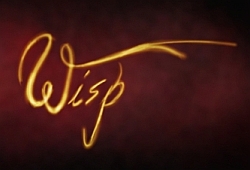 While the other projects on this list have great pre-alpha renders, Wisp has some of that magic few companies have. Nintendo has it. Thatgamecompany has it. And quite possibly Overzealous Studios has it too. Led by artist Terra Snover, the game follows a little ball of energy, known as "Little-One," as it is guided by a mysterious voice through this 2D platformer.
The beauty of the title is in its simplicity, while the blend of mircrobiological and ethereal visuals makes what may seem like a normal platformer somewhat mesmerizing. The other half of the equation is Snover herself, whose passion and drive is evident from the comic book-like storyboards on the game's Kickstarter page.
Overzealous is only seeking $4000 in order to update software to create more content for the game, which already has a working demo. They accept $1 in exchange for a simple thank you, while $5 will see you happily gifted with a digital copy for PC or Mac. Should you wish to be Snover's saviour and donate $10,000, more than double their target, this will see additional levels and platforms added to the game. Not only that, but your picture will be put in the end credits, and the team at Overzealous will shower you with love on their website as well as some great gifts.
SolForge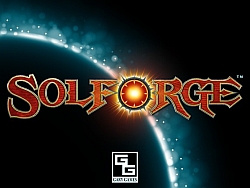 I almost overlooked SolForge over the similarly titled Forge, had it not been for the keen eyes of Warp Zoned's Nicole Kline. Gary Games Inc, creators of Ascension, considered by some to be the definitive deck building card game, is hoping to trailblaze a new kind of game, the Digital Collectible Game (DCG). This new gaming platform is the marriage of traditional card trading games and the convenience of mobile and online gaming. To make this experience the best it can possibly be, the company has collaborated with Richard Garfield, said to be the father of trading card games and designer of Magic: The Gathering.
Gary Games has noted that many online Trading Card Games (TCG's) are ports of existing physical card games, and wish to exploit what they see as an opportunity to create something unique to digital platforms. In the same way that Kindle has revolutionised how we read books, the company is hoping their new DCG category can bring the best of both worlds to fruition. Players will be unconstrained by location, while the digital space will allow cards to "evolve." Gary Games is pushing SolForge as free, easy to play, but with enough depth and customisation to allow for limitless card combinations, meaning mastering the game will require practice.
Initially the game will only be available for PC and iOS at launch, although the development team is keen to bring the title to Android platforms as well, and will become a reality if funding reaches $500,000. For pledging $5, you will receive a access to the beta test, as well as a badge authentication you have supported the game since its beginnings. On the other end of the scale, with a donation of $10,000 and above (limited to only five people), you will meet the team for dinner and gaming at Gen Con 2013, as well as visiting the studio in San Diego (you are responsible for your own travel). You will get to try your hand at designing cards, and will also become a permanent fixture in the SolForge world, making you an epic character in the game's expansive storyline.
We've got even more in this edition of Kickstart This!, just skip on over to the next page.