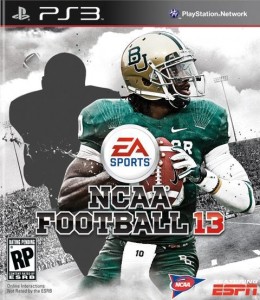 The NPD Group has released their list of the ten bestselling games of July 2012 and, surprising no one, NCAA Football 13 took the top spot.
The football sim was the only new release from the month of July to crack the top ten, but to be fair, there weren't very many games released last month. Instead, the top ten is populated by holdovers like Lego Batman 2, The Amazing Spider-Man, and two Call of Duty games (Black Ops and Modern Warfare 3). According to Joystiq, this motley crew could only manage sales of $260.7 million, a 23% drop from July 2011's take of $338.5 million.
The full top ten is available after the break.
Bestselling Games in July 2012
1. NCAA Football 13 (Xbox 360, PS3)
2. Lego Batman 2: DC Super Heroes (Wii, Xbox 360, DS, PS3, 3DS, Vita, PC)
3. The Amazing Spider-Man (Xbox 360, PS3, 3DS, DS, Wii)
4. Just Dance 3 (Wii, Xbox 360, PS3)
5. Batman: Arkham City (Xbox 360, PS3, PC)
6. Call of Duty: Black Ops (Xbox 360, PS3, DS, Wii, PC)
7. Assassin's Creed: Revelations (Xbox 360, PS3, PC)
8. NBA 2K12 (Xbox 360, PS3, Wii, PSP, PS2, PC)
9. Call of Duty: Modern Warfare 3 (Xbox 360, PS3, Wii, PC)
10. Dead Island (Xbox 360, PS3, PC)