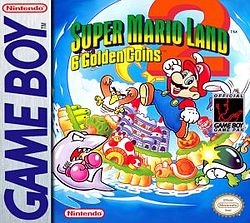 Welcome to your weekly Nintendo Download news! This week, Nintendo has discounted Super Mario Land 2: 6 Golden Coins as part of their Month of Mario promotion. The game will carry a $2.99 price tag from today through Wednesday, August 15.
Are you looking for something new instead? How about these new additions to the company's download services:
Touch Battle Tank 3D (3DS eShop) – In Touch Battle Tank 3D, it's you on a solo mission against a nearly unstoppable army of killer tanks. Your strategy – keep the action going and the shells flying!
Commando: Steel Disaster (DSiWare) – A military group is being attacked by some of its own war machines. It's up to a commando and vehicle specialist code-named Storm to stop this terrorist threat.
Real Bout Fatal Fury Special (Wii Virtual Console) – Originally released in 1997, this fighting game is the sixth installment in the Fatal Fury series. With a system based on previous games in the series, the game introduced a more evolved two-line battle, improved the power gauge system and abolished the ring out system.