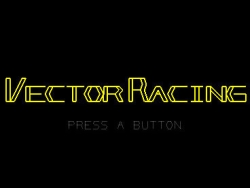 Nintendo is going way back in time with today's additions to the Nintendo Download services.
The title of this week's headline title, Vector Racing, says it all… It's a racing game that uses old school vector graphics! Well slap me silly and call me Jeff Bridges! You can download it from the 3DS eShop now.
Here's what else Nintendo has on offer this week:
Vector Racing (3DS eShop) – Enjoy a new, high-speed racing game that recalls the video games of yore. Use one of six different machines to race across 12 courses — some easy, some insane — in four different modes.
Metal Slug X (Wii Virtual Console) – This game is based on Metal Slug 2, but adds the new "Iron Lizard" and "Drop Shot" weapons. It also adds many new enemies and allows players to adjust the game's difficulty level by changing the position of bosses and other things.
Abyss (DSiWare) – Your mission will be to find the "Gaia" energy stones by exploring the depths. To do so, you must control Nep2no by counteracting gravity and the surrounding darkness with the aid of a Light that will go out little by little.