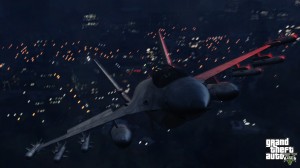 Rockstar has released a trio of new screenshots for Grand Theft Auto V, all relating to ways you get around the great state of San Andreas.
The screenshots include a shrouded figure riding a bike on the Pleasure Pier, a Cheetah sports car peeling out, and a fighter jet that looks to be piloted by the unnamed main character.
You can check out all three screens after the break and be sure to stop back soon as Rockstar has promised to release more images from Grand Theft Auto V later this week.