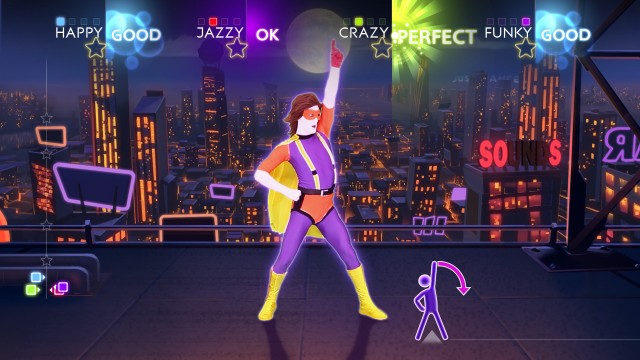 The full track list for Just Dance 4 has been revealed, and I have a feeling people are going to be excited that it's a boatload of songs that are impossible to get out of your head once you've heard them. "Call Me Maybe" will be in it, and I sincerely hope the dude in this Chat Roulette video has the game on pre-order as a result of that.
In addition to over 40 new songs, Just Dance 4 has a Battle Mode, unlockable Alternate Choreographies, and an expanded "Just Sweat" Mode. The Wii U version also has exclusive features, including Puppet Master Mode, which allows the player with the Wii U GamePad to switch up the routines on the other players. Sounds slightly sadistic!
Just Dance 4 will be out on October 9 for the PlayStation 3, Wii, and Xbox 360, with a planned launch release on the Wii U. Hit the jump for the complete song list.
Bill Medley & Jennifer Warnes – "(I've Had) The Time of My Life"
Las Ketchup – "Asereje (The Ketchup Song)"
Justin Bieber featuring Nicki Minaj – "Beauty and a Beat"
Panjabi MC – "Beware Of The Boys (Mundian To Bach Ke)"
Carly Rae Jepsen – "Call Me Maybe"
Boys Town Gang – "Can't Take My Eyes Off You"
Emma– "Cercavo Amore"
Army of Lovers – "Crucified"
Rihanna – "Disturbia"
Dancing Bros. – "Everybody Needs Somebody To Love"
Flo Rida – "Good Feeling"
Blu Cantrell – "Hit 'Em Up Style (Oops!)"
A.K.A – "Hot For Me"
The Blackout Allstars – "I Like It"
They Might Be Giants – "Istanbul"
Elvis Presley – "Jailhouse Rock"
Ricky Martin – "Livin' la Vida Loca"
Selena Gomez and the Scene – "Love You Like A Love Song"
Nelly Furtado – "Maneater"
Sergio Mendes featuring The Black Eyed Peas – "Mas Que Nada"
Maroon 5 featuring Christina Aguilera – "Moves Like Jagger"
Alexandra Stan – "Mr. Saxobeat"
Rick Astley – "Never Gonna Give You Up"
Marina and The Diamonds – "Oh No!"
Jennifer Lopez featuring Pitbull – "On The Floor"
The Girly Team – "Oops!… I Did It Again"
The B-52's – "Rock Lobster"
Skrillex – "Rock N'Roll (Will Take You To The Mountain)"
Kat DeLuna featuring Busta Rhymes – "Run The Show"
Anja – "Crazy Little Thing"
Pink – "So What"
Sammy – "Some Catchin' Up To Do"
Nicki Minaj – "Super Bass"
Stevie Wonder – "Superstition"
Europe – "The Final Countdown"
Halloween Thrills – "Time Warp"
2 Unlimited – "Tribal Dance"
Rihanna featuring Jay-Z – "Umbrella"
Hit The Electro Beat – "We No Speak Americano"
One Direction – "What Makes You Beautiful"
Will Smith – "Wild Wild West"
Barry White – "You're The First, The Last, My Everything"
Carrie Underwood – "Good Girl" (US exclusive)
Bunny Beatz – "Make The Party (Don't Stop)" (Wii U, Xbox 360, PS3 only)
Wii U Exclusive Tracks
The Girly Team – "Ain't No Other Man"
Cher Lloyd featuring Astro – "Want U Back"
Jessie J – "Domino"