Dean Dodrill's Dust: An Elysian Tail was announced as the winner of the second annual Dream.Build.Play Challenge in 2009 and, after securing a publishing deal with Microsoft, he spent the next three years designing and coding it himself. With the game finally complete, it recently took its place as the finale to this year's Summer of Arcade promotion.
So… one man development team… critical acclaim… and a big push from Big Redmond itself… can a side-scrolling action RPG really live up to all that?
Platforms: Xbox 360
Publisher: Microsoft
Developer: Humble Hearts
Genre: Side-Scrolling Bunny RPG
Release Date: August 15, 2012
ESRB Rating: Everyone 10+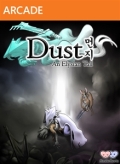 The answer to that question is… mostly. Dust: An Elysian Tail is just a simple side-scrolling action RPG (starring a masked swordsman known only as Dust), but it's also an amazing example of the genre known to many as the "Metroidvania" (a game with a non-linear, exploratory action-adventure structure).
In addition to his coding duties, Dodrill hand-painted all of the backgrounds and characters for the game. His dedication and single vision is clear, and the world of Falana feels very real and very lived in. Small animals dash back and forth between Dust's legs. Majestic deer gather towards the edge of a forest. The visuals give the world a storybook charm that actually reminds me a bit of the 80s cartoon classic, The Gummi Bears.
Of course, An Elysian Tail probably provoked that comparison due to the fact that its world is populated by talking rabbits. Even though the characters that Dust meets on his travels would be perfect for the Disney Afternoon, the game's story is one involving an evil general who wants to rid the world of a race of giant, talking lizards. Which makes the comedy bits, especially from your fairy companion Fidget, especially odd. The story veers back-and-forth between childish humor (Fidget is a guardian of an ancient and powerful sword, but she's also annoyingly cutesy) and the very adult theme of a genocidal army. It's even more jarring coming from anthropomorphic rabbits.
But if you remember, The Gummi Bears often did the same thing.
Dust is thrown into this war thanks to the hoary old "I don't know who I am" trope. Eventually, we learn that he was formerly the most evil member of the evil army, which is an even hoarier old trope. However, a final twist concerning Dust's true identity is pulled off pretty well and gives some dramatic heft to the finale.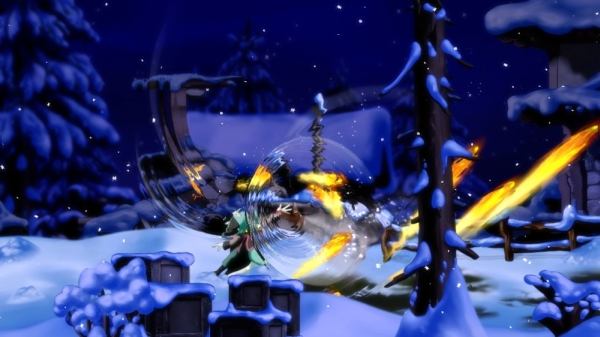 I've talked up the story so much because there's actually not a whole lot to the combat system. In the first few minutes of the game, our hero learns the "Dust Storm" ability. This trick allows him to spin his sword like a fan blade. Combined with Fidget's ability to throw fireballs, players can use the Dust Storm to fill the screen with projectiles. Eventually, Dust is also able to use the Dust Storm to lift off and spin through his enemies like a deadly dervish of destruction.
And that's all he'll ever be able to do. Sure, Dust eventually learns a parry move, a slide strike, and a double jump, but the sword strikes he uses during the first hour are exactly the same as the ones he uses on the final boss. Oh, and speaking of boss fights, they're pretty unmemorable. They don't require much in the way of strategy, just copious use of the Dust Storm and then a few additional sword swings.
While the combat in Dust: An Elysian Tail is repetitive, it's still lively enough to remain interesting for the 10-12 hours that the main game lasts. And if you crank up the the difficulty to "Tough" or "Hardcore," you're in for a brutal experience that matches the 16-bit classics Dodrill attempted to emulate.
One final note… the game crashed on me (to the Dashboard) multiple times. There was no warning that these crashes were coming and they seemed to happen at random intervals. Plentiful save opportunities allowed me to mostly ignore the crashes and made this a much smaller problem than it would be in a game with a different saving setup.
Dust: An Elysian Tail is a tad repetitive, and the talking rabbits are a bit of a weird choice, but the whole thing just works. The world of Falana, from the forest floor all the way up to the top of a spewing volcano and and then back down again to a frigid ice cave, is an interesting one. And if you download it, you won't want to stop until you've unlocked all of Dust's secrets.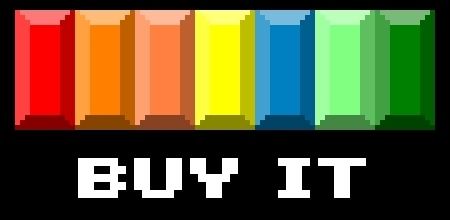 Review Disclosure: A review copy of Dust: An Elysian Tail was provided by Microsoft for the purposes of this review.