Fortress is a little indie game on the App store made by Ray Merkler, a game designer in the Philadelphia area. Painstakingly crafted with love, Fortress is a one- or two-player game that recreates solitaire as a war game, giving it far more personality and fun. It doesn't hurt that it's cute, colorful, and pretty darn addictive. So what makes Fortress so special?
Platforms: iOS
Publisher: Hindrances to Progress
Developer: Hindrances to Progress
Genre: Defend Your King with Cards
Release Date: August 2, 2012
iTunes App Rating: 4+

Fortress is played with a simple deck of cards. First, the players (or the player and the AI, in the case of solo play) are each assigned a King. The King is placed in a single row all by himself. From there, the player chooses the rest of the army to defend the King – three right in front of him, and five in front of the three. The five are the front lines, while the three are the last line of defense between the enemy and the King. You choose eight random cards and assign them, one at a time, to each position.
Cards with higher offense and defense should go directly in front of the King. Cards that are the same suit as the King will get bonuses. But beware! Cards that are the same suite as the enemy's King suffer penalties, and you won't know what suite the other King is until you fight him directly. So there's strategy involved, but some of the strategy can be tricky since you're not sure what you're dealing with right off the bat.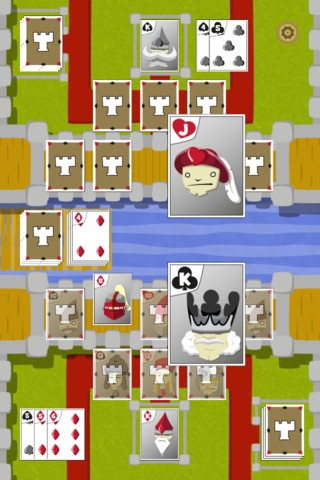 Each player draws a card – Ace (as one) through six – to see who goes first. As you attack the other players, the cards are revealed. Multiple cards are drawn to determine your additional attack power – the amount on those cards gets added to your attack, while their cards are added to their defense. The higher number wins. Your turn continues until you lose in one of these one-on-one fights. You have to fight the first row first, and as you open up holes, you can dig into the second row, and finally the King.
You can replace the cards in the front with one reinforcement per turn for as long as you still have at least one viable card left. In some games, I found the enemy tearing through my first line, leaving me with no ability to pick up any reinforcements at all. Some of it is the luck of the draw, but much of it is choosing the right cards to fight the enemy. OK, most of it is the luck of the draw – especially in a tight fight. It's frustrating when you strategize and the lucky AI ends up getting a better draw regardless of whether your defense is better than their attack.
The game is cute, fun, and keeps me entertained, especially on bus rides or any moment I find myself waiting. It's a great substitute for Solitaire or Freecell – much more attractive and with better strategy. There is only one gripe I have about it, and that is that the game often crashes. It's totally random – sometimes it's when it's shuffling the cards out before you set up your army; other times, it's just as I'm about to attack. It's a minor thing, but it can be frustrating when I'm involved – and, I'll admit it, when I'm actually winning, which is a pretty rare event.
For 99 cents, Fortress is a game you should absolutely have on your Apple device. It's quick, easy to learn, and fun to play, alone or with a friend. If you're looking for another game to add to your repertoire, this is the game for you. And it doesn't hurt that you're supporting an indie game developer in the process. It's all win here!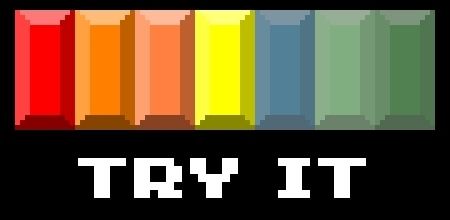 Review Disclosure: A review copy of Fortress was provided by Hindrances to Progress for the purposes of this review.