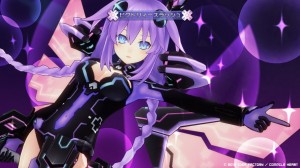 If you ever wanted to take the crazy Hyperdimension Neptunia trip into the 80s, now is your chance! Hyperdimension Neptunia Victory – known in Japan as Neptunia V – will be coming to America in spring of 2013.
Neptune will be back, but this time, she gets sent to the 80s version of Gamindustri. And guess what… there are lots of costume options! I know, you're shocked.
NIS America will also be making a Neptunia iPhone app, which will allow you to do some pretty wacky stuff, like take pictures with Neptunia and Noire, as well as use them as an alarm clock. Oh, NISA! You're adorable. Check out the game's website for more info.
[Source: Siliconera]