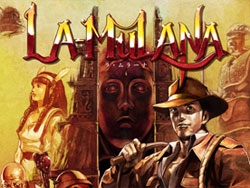 An Indiana Jones-like adventure game, a surfing sim, and a collection of LED games (seriously?) headline this week's Nintendo Download.
More information on all of these titles can be found right here:
La-Mulana (WiiWare) – La-Mulana is the most complete "archaeology action and exploration" game ever created. Take control of Professor Lemeza and his whip to discover the mysteries of Humanity.
Rising Board 3D (3DS eShop) – Join the family of surfers! Do you miss the sandy beaches?!? Get your board and dive into the happy, colorful world of Pop Island!!! If you are looking for fame or just the beauty of a trick, join us! You're joining a style, you're joining a familiy!!!
Retro Pocket (DSiWare) – Retro Pocket is a fun and exciting video game that brings you back to the glory days of LED handhelds!