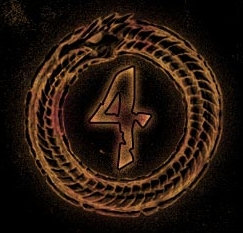 Obsidian Entertainment has relaunched their official website with a teaser page for their next game, currently codenamed "Project X." The mysterious "Project X" is symbolized by the number four surrounded by an ouroboros (the snake eating itself on your right). The image is accompanied by a short discussion and a link to Obsidian's "Project X" forum:
"What do the words mean?"

"Nothing. The Dirge of Eír Glanfath is sound without form, a lone voice crying out in mourning because it must."
The forumgoers throw out all sorts of possible answers to the question of "What is Project X?" including Dungeon Siege 4, a Wheel of Time game, Fallout 4 (unlikely, as Bethesda is working on it internally), or an original property set in a fantasy setting. Of course, the four could just mean an announcement is coming four days from now.
They've also discovered additional flavor text in the source code of the teaser page:
To tenderness, fellowship. To fellowship, vigilance. So bring we all to the Night Market. I am the Spindle of Esenath. Know me by my light and stand with me in darkness.
So now the only question is, what do those words mean?