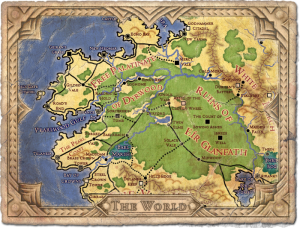 Obsidian Entertainment is at it again. The great minds who brought us Fallout and Fallout 2, as well as the Baldur's Gate and Icewind Dale franchises and many, many others, are working on a new PC game tentatively titled Project Eternity.
The tease they posted as "Project X" a few days ago is now a Kickstarter project. As with many companies these days, Obsidian doesn't want to compromise their dreams with a publisher, and is going right to the public. The Kickstarter page describes the scope of Project Eternity:
Project Eternity will take the central hero, memorable companions and the epic exploration of Baldur's Gate, add in the fun, intense combat and dungeon diving of Icewind Dale, and tie it all together with the emotional writing and mature thematic exploration of Planescape: Torment.

Combat uses a tactical real-time with pause system – positioning your party and coordinating attacks and abilities is one of the keys to success. The world map is dotted with unique locations and wilderness ripe for exploration and questing. You'll create your own character and collect companions along the way – taking him or her not just through this story, but, with your continued support, through future adventures. You will engage in dialogues that are deep, and offer many choices to determine the fate of you and your party. …and you'll experience a story that explores mature themes and presents you with complex, difficult choices to shape how your story plays out.
Intrigued? Go fund them. Heck, if you've got a grand laying around, you can even help design the game, creating your own NPC.