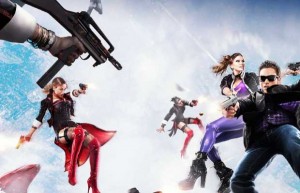 If you missed out on Saints Row: The Third in the last year, have no fear, THQ is here. The publisher has announced "The Full Package," a special edition of Saints Row: The Third that includes the original and all of the released downloadable content. That includes the three expansion packs ("Genkibowl VII," "Gangstas In Space," and "The Trouble With Clones") and over 30 bonus items in four content packs ("Shark Attack Pack," "Witches & Wieners Pack," "Special Operations Pack," and the "Genki Girl Vehicle Pack").
"The fans have asked for it, and with the Full Package, we are happy to deliver," said Kevin Kraff, Vice President, Global Brand Management for THQ. "With all the amazing and over-the-top DLC Volition created, the Full Package now stands as the definitive edition of Saints Row: The Third. For anyone that has yet to play this one-of-a-kind game, it's time to strap it on."
Saints Row: The Third – The Full Package will be available for $49.99 on the PC, PS3, and Xbox 360 on November 6.