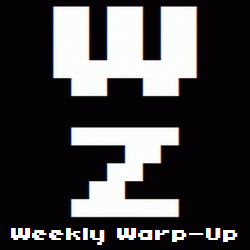 No, that's not a typo. Welcome to the Weekly Warp-Up, your weekly wrap-up of the biggest and the best articles posted at Warp Zoned this week…
Nintendo has finally fully pulled the curtain back on the Wii U. We now know that Nintendo's next-generation system will be released on November 18 in both a Deluxe Set and a Basic Set. We also know the Deluxe Set will be priced at $350 while the Basic Set will retail for $300.
The two biggest surprises of the Media Event were the announcements of Bayonetta 2 as a Wii U exclusive and the reveal of Nintendo TVii. Much less surprising, but still exciting, was confirmation that Call of Duty: Black Ops II will be availale on launch day.
And speaking of launch day, Nintendo also revealed that 21 titles will be available on November 18 alongside the new console, with another 30 set to release over the first three months of 2013. Oh, and most Wii U games will be priced at $60.
Was there any non-Wii U-related news this week? There most certainly was! Read all about it after the break.
The Week in New Games…
Amazing Paperboy Delivers…
It's A Secret To Everybody…
Bill Gates was always a planner… Microsoft has registered domains relating to Halo 7, Halo 8, and Halo 9.
Bohemia Interactive believes "they'd be stupid" not to consider bringing DayZ to consoles.
And Finally…
Nintendo has announced a ton of new dates for The Legend of Zelda: Symphony of the Goddesses Tour. Thankfully, there won't be a concert on November 18. That would just be awkward.