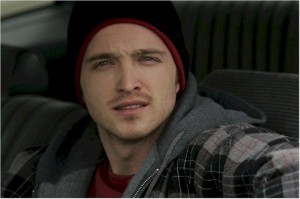 Aaron Paul is going places. As his final season as Jesse Pinkman in "Breaking Bad" is wrapping up, he's been jumping into movies. The most recent bit of news? He'll be starring as the lead in the new film Need for Speed.
The Dreamworks film will be inspired by the EA franchise. Due to hit theaters February 7, 2014, the studio says it will begin filming early next year. Scott Waugh will be the director, with the story written by John and George Gatin, and co-produced by John Gatin and EA's Patrick O'Brien and Mark Sourian.
According to the Entertainment Weekly article,
While Need For Speed seeks to capitalize on the same car-culture passion that made The Fast and Furious movies such hits, the presence of an actor of Paul's caliber suggests the racing thriller may be steering for a little more depth.
More depth? Than Fast and Furious? Impossible.