Bridgestone claims that "Kevin Butler" never appeared in their commercial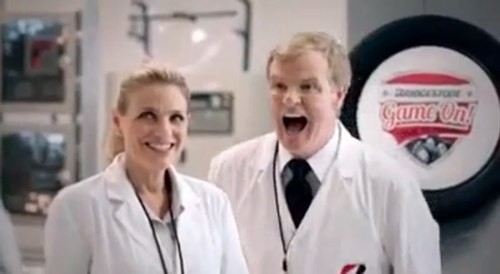 The "Kevin Butler" lawsuit saga just gets stranger and stranger. Speaking to The Hollywood Reporter, a representative from Bridgestone has pointed out that actor Jerry Lambert didn't have any lines in the commercial he appeared in, so he couldn't have been portraying "Kevin Butler."
"Mr. Lambert is one of the actors who appeared in the commercial as a Bridgestone engineer. Bridgestone denies that 'Kevin Butler' appears in the Bridgestone commercial discussed herein and thus denies that he speaks or does anything whatsoever in the commercial."
Sony is suing Bridgestone and Lambert's company, Wildcat Creek, for trademark infringement over their use of the "Kevin Butler" character in a commercial for a "Buy Four Tires, Receive a Wii" promotion. Bridgestone counters with the assertion that Sony never actually registered a trademark for the "Kevin Butler" character and that viewers understand that the people in commercials are actors.
Bridgestone makes a compelling case, but I'll bet that someone, somewhere, believes "Kevin Butler" is a real person.
It's Dangerous To Go Alone! Read This.
A Commenter Is You!
Related Stories From ZergNet.com