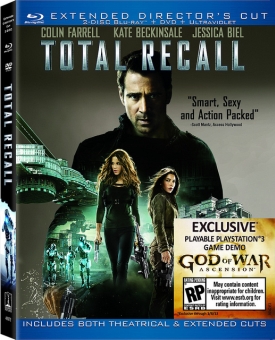 Just so we're clear, the headline is referring to Total Recall the 2012 remake, not Total Recall the Arnold Schwarzenegger masterpiece. Anyway…
When the Total Recall remake starring Colin Farrell, kate Beckinsale, and Jessica Biel comes to Blu-ray on December 18, it'll bring a God of War: Ascension demo first glimpsed at E3 2012 with it. The demo will be available on the disc "for a limited time." It'll likely make its way to the PlayStation Network after this limited time, but Sony has yet to say for sure.
This isn't the first time Kratos has teamed up with a Sony Pictures Blu-ray release. A God of War III demo was included with District 9 back in 2009.