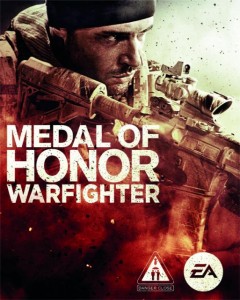 Another strong week of PlayStation Store additions is upon us.
This week, the PS3 Full Games section is now home to EA's Medal of Honor: Warfighter and 2K's The Darkness II.
On the PSN side of things, there's the artistic surrealism of The Unfinished Swan and the gray and brown post-apocalypticism of Killzone HD.
Vita gamers will get a chance to try out several new games this week, but Street Fighter X Tekken leads the pack.
And finally, the PlayStation All-Stars: Battle Royale beta is now open for all. It'll be accessible for PS3 and Vita players until Tuesday, October 30 at midnight (Pacific Time).
As always, more information on all of this week's new releases can be found after the break. The PlayStation Blog also has a complete rundown of this week's new game add-ons, demos, and videos.
PS3 Full Games
Medal of Honor: Warfighter ($59.99)
Medal of Honor: Warfighter is a first-person shooter featuring covert Tier 1 military operative combat. The game is a sequel to the 2010 release, Medal of Honor, which moved the long-running game series from its roots in WWII based gameplay, into modern warfare scenarios and true-to-life conflicts.
The Darkness II ($39.99)
The Darkness II is an intense first person shooter that puts you in the role of Jackie Estacado, don of a NY crime family and wielder of an ancient supernatural force of chaos known as The Darkness.
PSN Games
The Unfinished Swan ($14.99)
Enter the surreal world of The Unfinished Swan and explore a mysterious, hidden kingdom. Your journey will be led by a runaway swan who guides you through strange levels filled with bizarre creatures. Discover the land through innovative new game mechanics such as splatting paint on a white surface to uncover your surroundings. Each level will bring new twists, challenges, and puzzles until you eventually come face-to-face with the eccentric King that built this realm.
Killzone HD ($14.99)
Relive the original Killzone experience in high-definition 720p and new Trophy support. Originally released for PlayStation 2 in 2004, Killzone tells the story of Jan Templar, an ISA Captain whose home planet comes under attack from a Helghast invasion army. Together with a hot-headed sergeant named Rico, a deadly Shadow Marshal known as Luger, and the half-human, half-Helghast spy Hakha, Templar must attempt to reactivate the Orbital Defense Platform and drive the invading forces from his planet Vekta.
Starhawk (Single Player Only) ($19.99)
Experience Emmett Graves's quest for revenge in the Starhawk Single Player campaign. Called back to protect his home town of White Sands, hired gun Emmett Graves must rely on an arsenal of weapons and a little luck to fight off hordes of raiding Outcast and bring their leader, the ruthless outlaw, to justice.
PS Vita Games
Street Fighter X Tekken ($39.99)
A dream collaboration between the two biggest fighting game franchises is now a reality! A deluge of highly demanded characters join the fray in this tag team-based game! The second round of this war begins now!
Frobisher Says! (Free)
Compatible with PlayStation Vita only. Enjoy hilarious mini-games and interact with your PS Vita in just about every way possible. In Frobisher Says! – an exclusive app for PS Vita – enter Frobisher's colourful world and prepare to face the weirdest, funniest and most addictive gaming experience of your life.
Super Monkey Ball: Banana Splitz ($29.99)
Experience Super Monkey Ball as you've never seen it before! With local and Online Multi-player, custom level creation using the PlayStation®Vita System Rear Camera, 8 Mini-games and over 100 unique challenges, Super Monkey Ball: Banana Splitz takes the platforming / puzzle genre to new heights!
Orgarhythm ($29.99)
Music and strategy unite in perfect harmony in this unique rhythm game. Set in a world of light and dark, two gods embodying the creative and destructive forces of the universe meet in furious orchestral battle. Utilize the touchscreen to direct your warriors and tap-tap-tap your way to victory by keeping the beat. Unlock new skills, unleash new attacks, track your stats on the online ranking system or go head-to-head in 2 player Ad Hoc mode.
Zero Escape: Virtue's Last Reward ($34.99)
Zero Escape: Virtue's Last Reward is a suspense-driven visual novel/puzzle game and spiritual sequel to the hit, 999. Zero has kidnapped nine people and placed them in a warehouse to play the deadly Nonary Game. Play as Sigma and decide who among the eight others to trust and who to betray in this plot twisting visual novel! With fully voiced dual language support, new puzzles and more, solve the mystery that is Zero!
PS2 Classics
Winback: Covert Operations ($9.99)
The first blast wiped out your Space Center. In just 3 hours, the high-tech weapons satellite will strike again… It's your job to make sure that it doesn't.