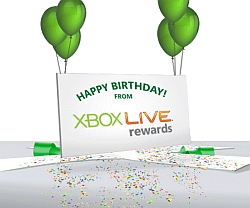 When Microsoft revealed the MyAchievements program for Xbox Live Rewards members, they also revealed that members would receive a "birthday gift" worth 25 cents. Many assumed it would be an Avatar accessory like a party hat or something. Not quite.
Since my birthday is next week, Microsoft has given me my gift and it's… drum roll please… 25 cents!
That's right, Microsoft's big birthday gift is 20 Microsoft Points, which will be deposited into my Xbox Live account on October 15. I've also been encouraged to "use it toward anything you wish in the Xbox Live Marketplace." Gee, thanks Microsoft, you shouldn't have.