Namco wants you to pick the art style for a Pac-Man casual game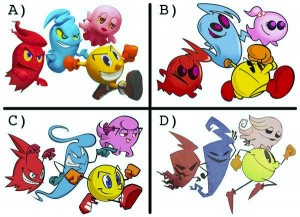 The Pac-Man Facebook page is home to a questionnaire asking fans about the future of the ghost-hungry yellow circle.
The survey gives fans a choice of four different art styles and asks which one they'd prefer Namco Bandai to use in the next Pac-Man game. The game is currently untitled, but according to Namco Bandai, it'll be a "casual game" that may appear on mobile devices, handhelds, consoles, or the PC.
I really like C as it has a similar look to the 80s animated series, but the original arcade art of B is also interesting.
It's Dangerous To Go Alone! Read This.
A Commenter Is You!
Related Stories From ZergNet.com