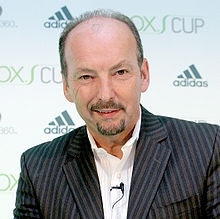 After hearing all of these developers and executives badmouth the very idea of used games, it's refreshing to find one that realizes they're an important part of the industry.
In an interview with Wired, EA's Chief Operating Officer, Peter Moore, laid down the case for why used games are ultimately good for a publisher's bottom line:
"Used games were a bigger issue for the industry – I wasn't resigned to it, but I recognised that it was the right of gamers and the right of our retailer."

"Our job is to take that consumer and say, you've got a used game consumer and embrace that guy rather than shun him and say 'no, not a penny of what we spent on this we get from you.'"
Moore would go on to point to the robust sales of FIFA 12 and FIFA 13's DLC expansions as a way to engage a consumer who may have come to a game through a used game shop like GameStop. So while his motives aren't entirely pure, it's nice to know that killing the used game is not on his radar screen… yet.