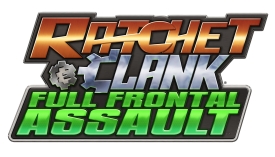 Are you still putting the Ratchet & Clank HD Collection through its paces? If so, you might be interested to know that Sony has given Ratchet & Clank: Full Frontal Assault a November 27 release date. The game has also been given a very friendly $19.99 price tag, which applies to both the PlayStation Network version and the retail version.
Yes, retail version. Insomniac's James Stevenson has confirmed that Full Frontal Assault is quite a bit larger than the last "fun-size" Ratchet & Clank title, Quest For Booty:
As you know, Full Frontal Assault is a "fun-size" project that's similar in scope to Ratchet & Clank Future: Quest for Booty. But Full Frontal is actually bigger than Booty (sorry, couldn't resist), as we've added tons of new features, including the new base assault and defense elements. An even bigger addition to Full Frontal Assault is the replay value we packed in with online / split-screen co-op, and online competitive modes.
And in case you forgot, Ratchet & Clank: Full Frontal Assault will be one of the first titles to take part in the PS3/Vita Cross Buy program. So if you purchase the PS3 version, you'll receive the Vita version for free.