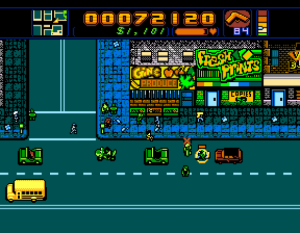 In a strange turn of events, Retro City Rampage – which had been slated to be released for WiiWare and Xbox Live at separate times and never made it to either – will be coming out on October 9 on PC, PS3, and Vita. Not that I'm complaining – after playing it years ago at PAX, I was bummed to find out it was coming to every console but the one I had at the time. But now, barring any additional strange barriers, hopefully the game will really be coming out next week.
Retro City Rampage was created by Brian Provinciano and has been showcased dozens of times. Its quirky backgrounds and obvious homage to the original Grand Theft Auto, coupled with its genuinely retro feel, make it a funny, entertaining game.
The game will be available for PC via Steam and GOG.com, though you can also buy it DRM-free through retrocityrampage.com and get a Steam or GOG download code as a bonus. If you're buying it for the PSN, you will get copies for the PS3 and the Vita, which is pretty amazing. No matter how you buy it, it will cost $14.99.
The game will also be coming to the Wii Shop and Xbox Live Arcade… at some point. But for now I'm going to gorge myself on RCR on both of my Sony devices as soon as Tuesday* hits.
* Unless it gets delayed again.