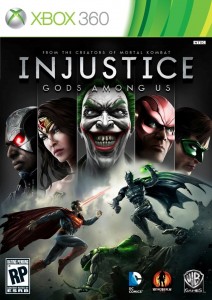 The Joker has never been one to shy away from a fight, and his gruesome mug is front and center on the official Injustice: Gods Among Us box art, just released today by Warner Bros. Interactive Entertainment.
Also, did you know The Joker is going to be included in Injustice: Gods Among Us? Because he is. And apparently so is the Green Lantern. While it would have been a huge shock if either of these two characters didn't make the final cut, it's nice to finally have confirmation. But what I'd really like to know is who'll be voicing the Clown Prince of Crime now that Mark Hamill has hung up his purple suit.
Injustice: Gods Among Us is still in development at NetherRealm Studios and will be available for the PS3, Xbox 360, and Wii U in April 2013.