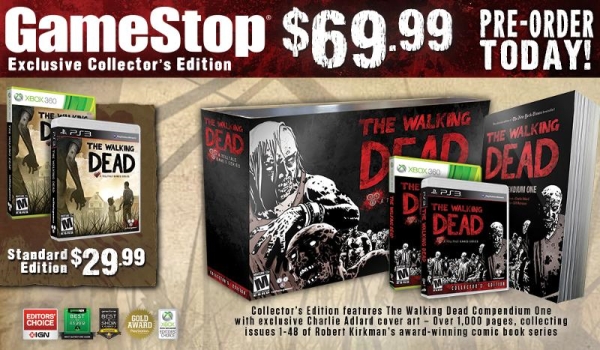 Telltale's season one compilation of The Walking Dead will arrive in stores for the PS3 and Xbox 360 on December 4. But if you happen to find yourself inside a GameStop between now and then, you can also pre-order a special Collector's Edition of the adventure game.
Priced at $69.99 and available only by pre-ordering, The Walking Dead: Collector's Edition includes a PS3 or Xbox 360 game disc, a colorful box with artwork by Walking Dead artist Charlie Adlard, and an exclusive edition of The Walking Dead: Compendium One. Compendium One is the 1088-page collected edition of the first 48 issues of the comic series and this exclusive version of the book includes a new cover with art by Adlard.
Compendium One's retail price is $59.99 by itself (though you can get it from Amazon for under $35), so this Collector's Edition is a pretty good deal if you want to explore the origins of the comic series. Though exclusive cover art has certainly lured a comic fan or two to unnecessarily empty their wallet over the years.