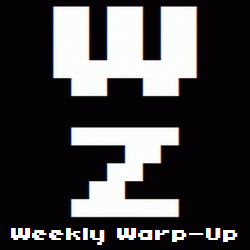 No, that's not a typo. Welcome to the Weekly Warp-Up, your weekly wrap-up of the biggest and the best articles posted at Warp Zoned this week…
It's been a busy week here at Warp Zoned as the staff has been busy arguing over The Scientifically Proven Top 100 Video Games of All Time. We smashed together six previous Top 100 lists to create a "Meta Top 100" and produced what we think is the most "accurate" Top 100 list yet.
You might agree with our ranking… or you might disagree… but it's certainly interesting.
Oh, who am I kidding? Everyone agrees that the greatest game of all time is Tetris.
What? You don't agree? I guess that's alright. You can still check out the rest of the news from the week that was after the break.
The Week in Reviews…
The Week in New Games…
Amazing Paperboy Delivers…
It's A Secret To Everybody…
And Finally…
The third episode of Halo 4: Forward Unto Dawn is now available. But even more exciting is the news that this live action Halo 4 trailer shows the Master Chief's face for the first time.