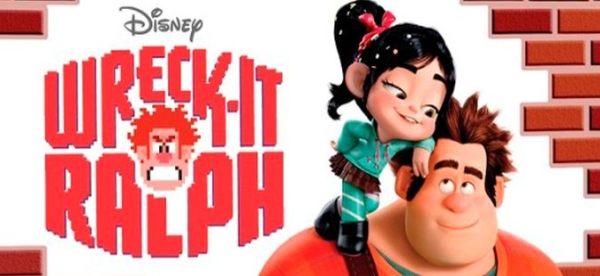 If you're anything like me, you were smitten with Wreck-It Ralph when you saw its trailer for the first time. A Disney movie about a fictional video game, featuring characters from beloved games of our youth, made in an adorable style, with an amazing cast of voices? It was like a dream come true. Each additional trailer and a fantastic series of posters hyped me up more and more, and gave me butterflies in my stomach. And, as I found out in a special early screening of the movie, gaming has gone so mainstream that gamers are in for an awesome treat with Wreck-It Ralph.
Director: Rich Moore
Starring: John C. Reilly, Sarah Silverman, Jack McBrayer, Jane Lynch
Release Date: November 2, 2012
MPAA Rating: PG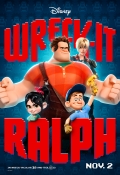 I was lucky enough to see the movie during the Philadelphia Film Festival – in a setting so VIP that men in suits even took our phones away from us. When we finally took our seats, we noticed that many of the patrons were children. As the movie began, there was an adorable short called "Paper Man," and at the end of it, one child called out, "Was that Wreck-It Ralph?" Everyone in the theater started laughing. It was one of the best child-filled theater experiences I've ever had.
I won't give away too much of the plot – if you've seen the trailers, you have a great idea of that already – but I will say that the story was excellent. Wreck-It Ralph is the bad guy in the game Fix-It Felix, and on the day of their 30th anniversary, his depression at being treated like the bad guy – even though he's not such a bad guy – encourages him to visit his first meeting for bad guys, where he meets with other "bad guys" like Zangief (Street Fighter), Clyde (Pac-Man), and Bowser (Super Mario Bros.). He tries to crash a party for Felix back in his own game – which he feels he should be a part of, as he's a star of the game, too – but the other members of the game loathe him too much to let him stay. If he were to win his own medal, he reasons, can he then spend time with them? They sarcastically agree to it, and Ralph jumps games to seek out a medal of his own in the hopes that it will give him the respect he deserves.
As the events unfolded, it felt like the pacing of a video game story – one without a single dull moment. His adventures take him from the first-person shooting of Hero's Duty to kart racing in Sugar Rush. And, in between all of the excitement, there were unforgettable characters – old and new – who brought the story to life.
John C. Reilly was perfect as Ralph, desperate for acceptance and a chance at being treated like the nice guy he is inside. Jack McBrayer as Fix-It Felix had me laughing nonstop, and fans of 30 Rock will be unable to picture anyone other than the sweet and innocent intern, Kenneth Parcell, behind the goody-two shoes character. And I was surprised to find out that villainous King Candy was played by Alan Tudyk, who delivered his wickedness perfectly.
While the rest of the cast was great, the show was stolen by Sarah Silverman, who played the glitch named Vanellope von Schweetz in the cavity-inducing kart racer Sugar Rush. She nails the character perfectly, from her giddiest moments to her insult wars with Ralph. And in her, Ralph finds a kindred soul, someone who is shunned by the other characters in her game, not because she is inherently a bad person, but because she's been programmed to be disliked by them.
The game – er, I mean movie – is so full of affectionate references and moments that it's hard to imagine it was made for anyone other than children of the 8-bit era. From the way the characters in Fix-It Felix move around (even when the game isn't on), to the references to Mario and Pac-Man, to the hysterical puns throughout, everything is geared towards our childhood – while still being accessible enough that children will adore it as much as we do.
Wreck-It Ralph will open in theaters on Friday, November 2. If you're reading this, then you should absolutely go see it. If you love Qbert, if you've played any video games made in the 1980s, if you remember what it's like to spend all of your quarters in an arcade – this movie was made for you. This is a magical chance for you to see so much that you love packaged reverently and preciously, and to share that moment with others who feel the same way. Heartwarming and sweet, brilliant and nostalgic, this movie will steal your heart – but leave you with powerups you'll never forget.